You might or might not have heard about it, but you have used it or at least seen it. Google My Business is a free web listing service that uses the Google search engine GMB (Google My Business). Another free one! It is one of the best strategies for growing your small business's online clientele. It is the best method for getting your business found on Google as soon as a potential customer search online for the closest company. Google My Business for small businesses will be an excellent way to be discovered by customers.
When your business has a Google My Business page and a customer looks for the services you provide online, it will immediately appear on Google searches ( rankings explained later on ). When a customer inquiries, for example, "Make Up Artists near me," your business will appear in the Google search. Bingo, if your business is selected, you now have a brand-new client.
Google My Business seeks to increase your visibility online to aid in your business' growth. Google My Business helps business owners ensure that whenever a customer searches online for services that are compatible with your business, they will be able to find your local business.
Searchers can find your business using the information on your Google My Business listing. Additionally, a Google My Business listing helps business owners with the SEO of small businesses.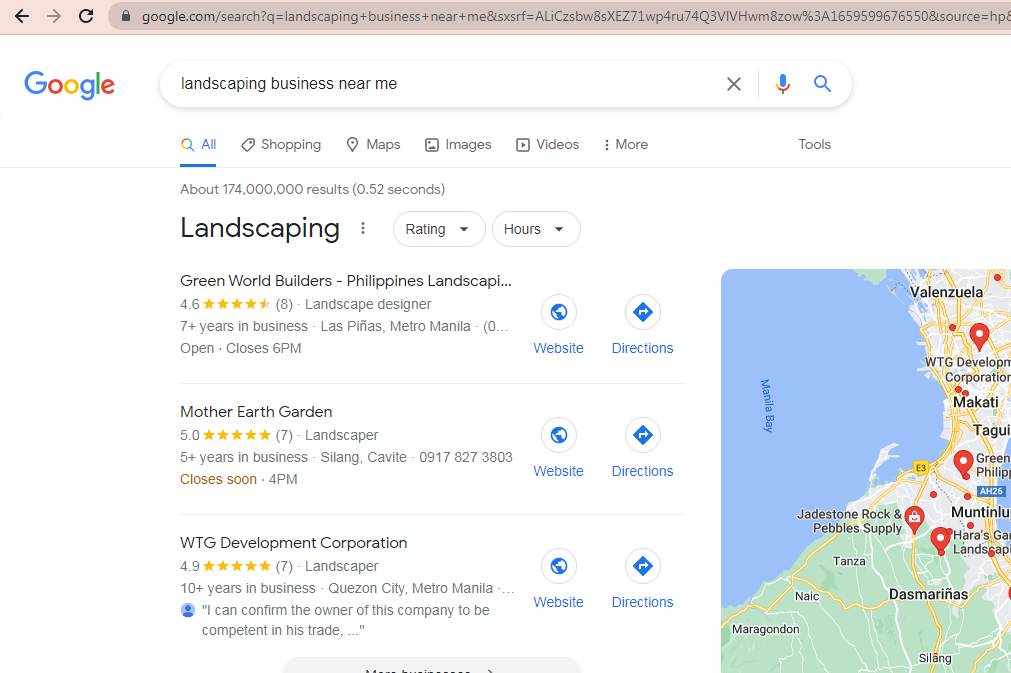 See the highest ranking business near the searcher? It could be your small business! Indeed, when a Google My Business page for small businesses is well-optimized for searches like the one on top, high-ranking waves.
How To Start A Google My Business Page for Small Businesses
Set up an account. It might be overwhelming and sound like a lot of work when we read phrases like "Setting up a listing in Google My Business." It doesn't, which is terrific news! By creating your listing, you can launch the Google presence of your landscaping company. It is quick and straightforward. You only need a Google Account to get started.
Here is a quick tutorial on creating a listing for your business on Google My Business.
Access Google Business Profile Manager By Logging In
If you already did sign in to a Google account, you are automatically present in Google Business Profile Manager. If not, log in using your standard Google login information or register for a new Google account.
Enter Your Landscaping Business
Type the name of your landscaping company here. If it doesn't appear in the drop-down menu, click "Add your business" on Google. After selecting the category that best describes your landscaping business, click "Next."
Include Your Contact Details
It is a crucial action to do. Enter your landscaping business phone number and website URL so customers can reach you. A phone number won't be necessary unless you want people to be able to call your landscaping company. Once all of your information is present, click "Next."
Verify Your Company
Give a precise street address. This data is needed to verify your landscaping business; it is not shared with the public or displayed on your Google Business Profile. After inputting your address, click "Next." You will receive suitable alternatives for validating your account. For address confirmation, physical businesses must get a letter in the mail.
Make Your Profile Unique
Here is where the fun starts, and you can better convey the spirit of your landscaping business. This feature gives your landscaping company a chance to stand out. Include your landscaping business's hours of operation, preferred ways of getting in touch with you, contact information, and photographs. When you are ready, click "Continue" here. You will be in the Business Profile Manager dashboard. You may manage your landscaping business page, look over insights, manage reviews and messages, and create Google ads from this page.
Factors That Influence Google My Business Rankings for businesses
1. Enter Complete And Accurate Data (NAP)
Ensure that the principal category for your business listing is appropriate. For each search, local results favor the most pertinent outcomes. The critical information below is present in the primary type that needs to put consistent and precise.
Name of the Business – Never squeeze more than one word into the name field; always use your actual business name so that searches won't be affected. Don't include additional terms like "But First, Coffee Your City," for instance; use "But First, Coffee." Use the correct format and do not add unnecessary words to your company name because it would go against Google Places' policies and may lower your chances of higher ranking.
Address – Enter your precise legal address in the address field. Ensure the same address is on all other web directories, such as YellowPages.com and CitySearch.contort. For placement, your NAP's consistency is crucial.
Phone number – Use a local, rather than an "800", number for your phone number. Make sure the number is your actual office number. They don't rank well, "800" numbers. We don't want you to use a tracking number because it won't be consistent with your other online directory listings and will hurt your rating.
Categories – Use ALL five classes; you are allowed to use them. Use categories that accurately reflect your company's "is" rather than your it's "does." You can therefore employ, for example, "Publication" and "Design" whatever suits your business.
As previously noted, maintaining a consistent Name, Address, and Phone Number profile online is crucial for appearing highly on the Google Map for your neighborhood. It acts as an authority signal in Google's eyes.
To make sure that your genuine NAP is constantly in demand online, it is crucial that you first determine it before moving on to claiming your Google Map listing and building citations.
2. Business Title's Keywords
When your landscaping business uses highly descriptive words in its name, it will perform better in GMB, albeit you probably have little control over it and shouldn't keyword load your name for rankings' sake. For instance, Jill's Closet or Anna's Boutique will likely score higher than a clothing business with the clever name " House of Sparkle: Shine, Shimmer, and Glimmer" Title keywords are not the place to be creative and complex; this is a place for straightforwardness and simplicity.
3. Good Feedback On Google
Customers are more inclined to suggest you to Google if they do find your small business provides an excellent service. Your business or companies with better ratings than those with lower ratings appear higher in the Local Search. Bonus advice: Despite having no control over what clients write about you, it's crucial to understand that client reviews that include pertinent keywords can boost your ranking.
As your business changes, make sure to keep your information current. For users to understand what your business does, where your location is, and when they can visit, ensure you have included accurate business information in the Business Profile.
4. Distance From Searcher
Google returns GMB listings that are close to the searcher's current location. Unfortunately, you have no control over these ranking criteria; location plays a massive role in this factor.
How To Optimize for Local Ranking On Google My Business for Small Businesses
You are accurately completing your list.
To get the most accurate results, Google will use the information from each component. Give Google a complete image of your business so it knows all your services and can produce the most accurate results. Finishing your listing will save time, effort, and additional conversation. Your Google My Business page's correct and precise listing will raise your business's local SEO rating.
Accuracy of your business's details
Verify your entry of the company name, address, and phone number. It must be an exact match to the details on your Website. Such crucial business information must be truthful and presented on the Website in an easy-to-understand manner.
You are consistently updating your Website and uploading excellent photos.
Treat your Google My Business profile like Instagram or Pinterest; keep accuracy in mind while ensuring that the photographs appear beautiful. Work harder to make both nice so as not to deceive the clients by making the contents look fantastic in the images but awful in person. The more recent and excellent your photos, the more likely your business will attract clients.
You should post on Google My Business at least once every seven days. Many businesses have achieved good results and increased rankings by posting once each day. Companies that frequently use Google products tend to receive favorable treatment from Google.
Answering reviews
Recognize reviews, good or bad. Let them know you appreciate their taking the time to give your business a review. Providing a brief assessment takes time and effort because people are busy with their daily lives. Make sure to reply to reviews and let them know you value their input. After the transaction, they may have just lost interest, but if they left a review, they must have had a cause.
Keep your hours accurate.
Regularly update your available times and additional hours for holidays and special occasions. It gives customers trust that your business will be open when they need it by providing accurate hours information that lets them know when you're available.
Relevance
It is the degree to which a local business profile corresponds to a searcher's needs. To help Google better understand your business and link it to pertinent searches, provide precise and accurate business information.
Prominence
The term "prominence" describes how well-known your business is. Search engine results attempt to reflect the fact that some locations are more well-known offline through local ranking. Famous museums, storied hotels, or well-known retail chains, for instance, are likely to appear prominently in local search results.
Furthermore, Google determines prominence records collected about a company from various online sources, such as links, articles, and directories. Best search engine optimization (SEO) practices are in place because your position in web results is also a consideration.
The best search engine in the world is the Google Search Engine, which is also one of Google's most well-known products. Google has gained over 70% of the market for search engines. It only shows that a Google My Business account is significant for landscapers.
What are Citations, and why are they important?
Citations are references to your landscape business's name, address, phone number, or NAP as it appears online. These details might appear on social media platforms, websites, apps, and local company directories. Citations both aid in local company discovery and affect local search engine rankings.
In particular, having solid essential citations can improve your position on Google's local search results pages. These details are necessary because they define your identity and help Google separate you from all other businesses listed online. They also function as a distinctive marker and your business's identity. Without citations, a company can appear unremarkable to the search engine algorithm and hence have a lower chance of appearing in pertinent searches. Sources improve your rank and enhance a search engine's confidence in the data about your landscaping company.
A significant component of local search engine optimization, particularly when positioning your Website in Google's map results, is building up your Name/Address/Phone (NAP) citations. You can make local citations from hundreds, if not thousands, of sources. However, specific sources are more pertinent to home service firms than others, and vice versa. Spend your time producing impactful citations of the highest magnitude.
Your Name, Phone number, e-mail address, and Website should all be consistent when creating citations. It would be best if you made a unique description highlighting your service areas and product offerings for each reference, but the NAP must be consistent and the same.
Look at the most popular citations for your area.
People expect Local citation sources. Suppose you're in New York; for instance, chamber.Nyc/directory is a fantastic example. Search for terms like "your city business listings" and the country and city levels to find these.
Conducting a Google search for the services you provide in your location is another excellent technique to discover relevant citations for your niche. And then get a listing!
Many citation sources are listed when you scroll through the first few pages of results. You can tell Google values directory websites' entries if they appear in the first few pages of search results.
The good news is the following top 10 directories for your small businesses do not demand payment or need the use of an unsavory third party.
After creating these listings, you should proceed to update them at least once every three months with fresh photographs and details. And be prepared for traffic when your Google My Business for your small business is well optimized.