Why is Internet Marketing Important for Your Small Business?
As a business owner, you have inevitably heard about online marketing; perhaps you are curious why it resounds a lot in the industry. Let's see how Internet Marketing is essential for your small business. Unlike traditional marketing, it enables concentrating on specific targets with local or worldwide reach, generating significant income with little expense. Online marketing also makes it simple to handle damage. It demonstrates how to establish, grow, and maintain your small business's online presence on all available platforms. Businesses and companies rely heavily on their online presence, reviews, and customer feedback to succeed.
Our world is changing, and some things worked very well before that may not be as effective as today. Online Marketing means maximizing the Internet in marketing your small business.
Let's study 2 examples: Anna's Boutique and Jill's Closet, two small clothing and bag businesses. Anna's Boutique uses only traditional marketing, the usual marketing strategies since they started in 1999. Printed flyers, ads in the newspaper, magazines, and a more prominent name of their business outside the shop. Jill's Closet, on the other hand, uses traditional marketing. It stepped into online marketing; they also have online and physical shops. Which business has a bigger chance of acquiring more customers and making its name known to many?
Which business will have better revenue? Of course, that one that has more customers. And which of these two will be able to get more customers? We can quickly determine by looking at their marketing plans who maximized Internet Marketing for small businesses. Indeed, Jill's Closet is maximizing every opportunity to market its business and is not afraid to use Internet Marketing to its maximum benefit.
How does it benefit your Small Business?
Online marketing is sometimes misunderstood, particularly by business owners who are not tech knowledgeable; they typically believe it to be difficult and would drastically alter their company when, in reality, it is simple to master.
Increased engagement is one of the main advantages of online marketing; consider how much time people spend on their smartphones and laptops, especially in this age when every action performs chiefly online. Those people could very well be your future clients; otherwise, you should adhere to Internet Marketing.
Another advantage of online marketing is that you may provide various materials; you are no longer limited to only written and printed ones. Did you know that anything is possible for a business with a website? You can make movies, audio, images, articles, slide displays, and more to promote your company. Everything that comes to mind, you can certainly do it!
Digital marketing benefits include increased local visibility, which is crucial if your company depends on neighborhood clients. Local SEO and locally focused advertising can be helpful for your businesses looking to increase website traffic. Comparing your ability to reach a neighborhood with digital marketing to get a community with printed flyers is illuminating.
One of the various benefits of Internet marketing is using multiple tactics. You can utilize the following in it:
SEO-based content creation
Search engine marketing
Social paid ads
Video Marketing
Forum Engagement
Social media marketing
Email marketing
Local search
Remarketing
Influencer marketing
All the things mentioned above help your small business, which I will discuss more as we go on.
These are just some of the many benefits of online marketing to your small business; you will see so much more as we go. Now, you must be wondering what you need to know to be able to start. I wrote this book to help you every step of the way.
Here is what you need to know before you start Internet Marketing for your small business.
In starting in everything, knowing the basics is the most important. Most people should be more aware that understanding the fundamentals is essential for success.
There are three components in marketing: a marketing message, a media to deliver the news, and a market to receive and respond to it. Below is an illustration for you to understand what this means more: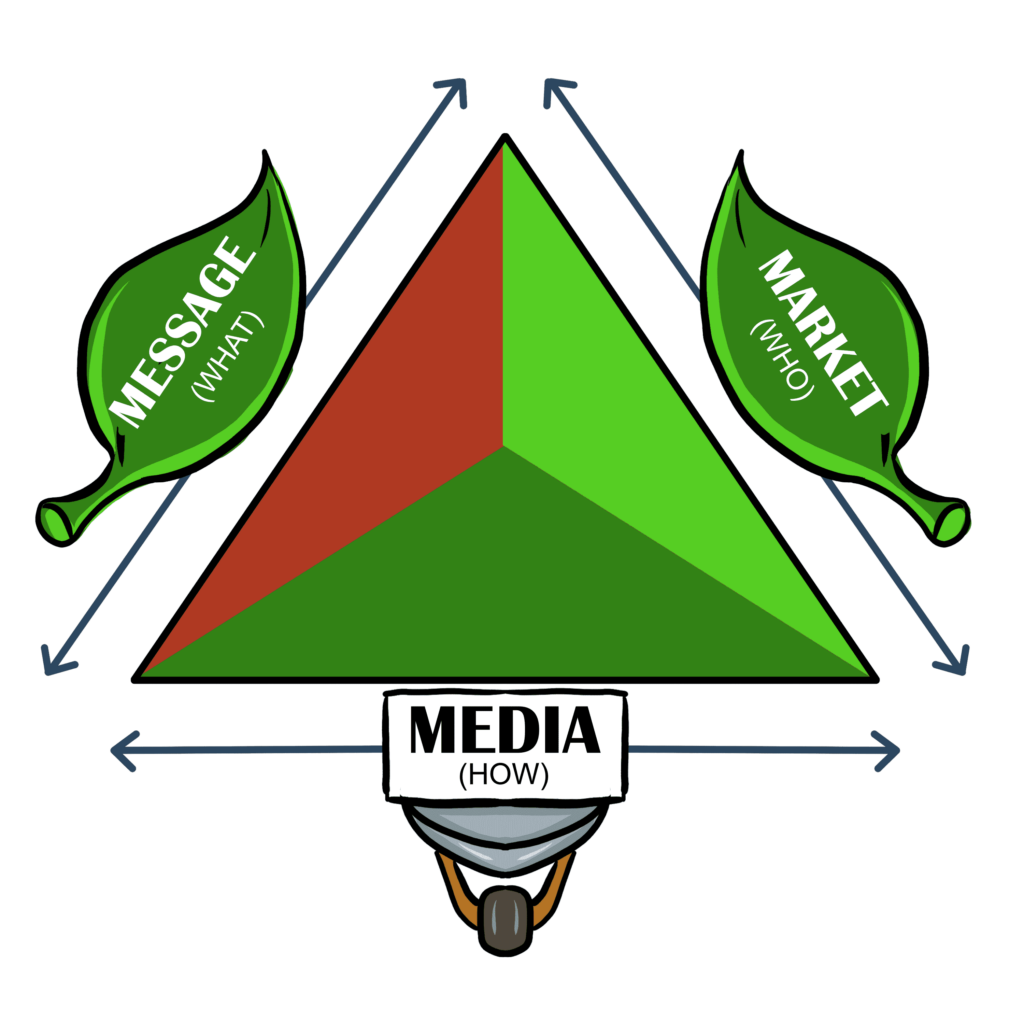 Message – A brand communicates with its clients through marketing message, who the business is, and reasons to choose your company, which also emphasizes the benefits of its products. The term "messages" covers the actual words and phrases a business uses in its advertising and the sentiments and feelings accompanying it. In the most straightforward period, what your business offers. Make sure your business' message is in a rocket to be able to land on the proper target market.
Market – Meanwhile, this one explains the "who," which means who are the ideal customers for your business. Be specific about your target market.
Media – To easily explain media, on the other hand, it is the "How." Therefore, media is how marketers communicate the message to reach the target audiences (market) clearly and effectively. For example, the media might be an article on your website, a video, a compilation of photos, or an audio file.
Thus, the message is the content, and the media is the way of sending the message. Meanwhile, the market is the target audience to receive the news.
Get all three components together to push through to more robust sales. Finding the target audience is the first step in doing this. How can you choose the appropriate message or media if you are unsure exactly who you are trying to reach? It's not feasible. Your "who" will therefore control the media and the message.
It is always important to know who your primary clients are. If you are already selling, examine your present customers and seek patterns. Do you typically sell more to CPAs and accountants? Or even to grownups who are parents? Using commercial email lists, you can eliminate prospects if you spot certain marks.
No matter how excellent your message is, if the marketer used the wrong media to deliver it to the right market and the right market cannot receive it, it will all go in vain, and vice versa. Each triangle of this polygon, known as the Marketing Results Triangle, feeds the others. But if the components aren't precisely timed, marketing loses its effectiveness.
There are many ways to make the model helpless, like:
Right Message – Wrong Market – Right Media
Wrong Message – Right Market – Right Media
Wrong Message – Wrong Market – Wrong Media
Since you clearly understand one of the most important things you should learn before jumping into Internet Marketing for your small business, let's move to the specifics of your online marketing strategies.
Internet Marketing for your Small Business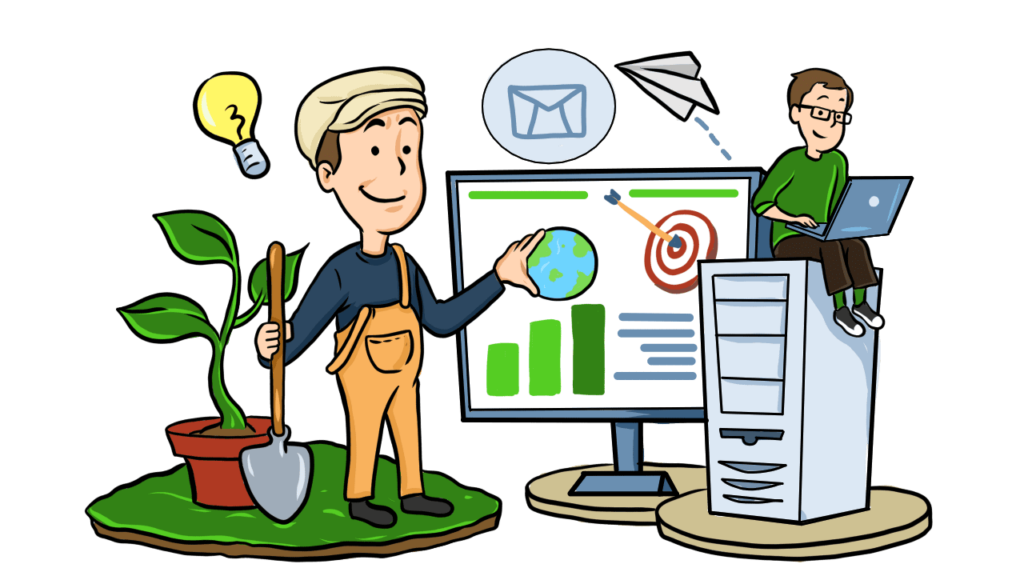 Introducing the following IMS ( Internet Marketing Strategies for your small business ) that you can use to help your business grow in customers and increase profit. We will dive more into them as we go on; for now, this is the overview of what they are and their differences.
Website
Typically, the objective is to draw potential customers to a company's goods or services. As a part of your entire digital marketing plan, you can use it as one of the online marketing channels. A website marketing campaign's primary objective is to increase the number of visitors to your website. More website visitors equals more chances to present your value offer to potential clients.
A website is a collection of web pages containing codes explaining each page's design, structure, and content. Your browser sends a request to the web server, an internet-connected computer, for a particular web page. Your computer and the server are linked via an IP address by the browser.
We will discuss later how websites can immensely benefit your small business.
Local SEO
What is Local SEO (Search Engine Optimization)? It is the process of enhancing local businesses' visibility on major search engines, particularly for those who have a physical presence. Companies can increase organic traffic from queries made by local customers by adhering to local SEO best practices.
PPC
PPC works like this; internet marketers who use PPC, or pay-per-click, are charged a fee each time one of their ads. Simply put, you only pay for advertising when a user clicks on your ad. In essence, it's a way to 'purchase' website visitors in addition to generating them naturally.
PPL
PPL is short for Pay Per Lead, and it's a kind of network promotional strategy where you pay a partner ( an affiliate program which we will discuss later) based on how many leads they generate that converts for the client.
Local service add
With the use of local services ads, you may reach out to people who are looking for your services on Google. Customers in your neighborhood will see your adverts, and you only pay if a lead comes in from the ad.
Do not be intimidated when you see the words "pay" or "paid plans" do not worry; we will tackle it later and explain more about this and how it works in the following chapters. For now, let's hop on to the next!