The primary goal of SEO is to make your business more visible on popular search engines. Here is the distinction. Local SEO for small businesses enables you to seize local search territory to interact with searchers in your area, unlike traditional SEO. It concentrates on increasing your site's visibility on a national or international scale.
When someone searches locally, they are looking for businesses, goods, services, or other information pertinent to a particular area. They might type in "Catering Business near me" to look up a catering business in the neighborhood or "aesthetic cafe in [your city]" to discover a local cafe business in your area. In contrast to standard Google searches, local search is more location-specific. Local SEO improves your online presence so that you appear in those local search results.
Why do you need Local SEO? SEO for small businesses increases your online presence and brings more specialized traffic to your website, increasing your chances of conversion. Also, this helps build your trustworthiness and credibility as a landscaping business.
Let's Understand The Three Significant Components Of Search Engine Optimization For Small Businesses And Their Differences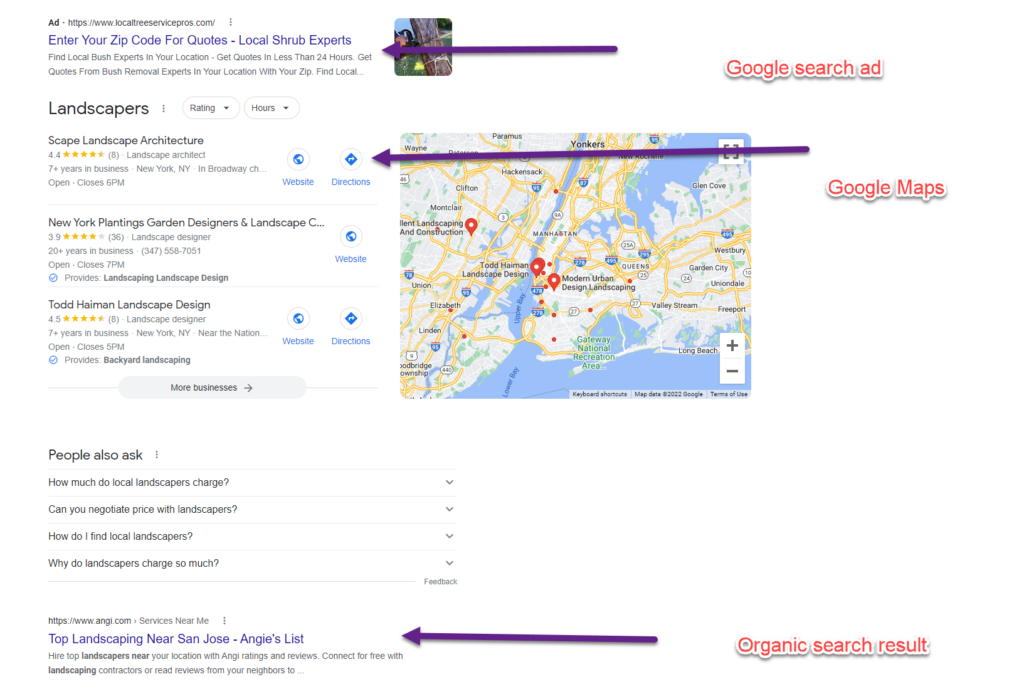 Organic listing – The practice of raising your rankings in unpaid (organic) search results on search engines like :
They are known as organic search engine optimization. There is no per-click fee associated with this kind of search engine, similar to the map listings; it is free. But the thing is, you can not "pay" or "buy" your way up in the rankings of this type of listing. You will only be on top of the rankings in this listing if you do keyword research, link building, and consistent content production (discussed in chapter 5).
Maps listing – Most likely, the map listings will be the first thing someone looks at when searching for specific services in your area. If a potential customer would like to avail of your landscaping services, they will most likely go on maps and look for what is the nearest and most relevant business they could find. Similar to organic, you cannot purchase your way into the map listings, in contrast to the premium area of the search engine. But it also comes with keyword research, link building, and consistent content production (discussed in chapter 5). Here are map listings you can maximize for free:
Paid listing – In paid listings, you can choose keywords appropriate to your landscaping business and then pay to appear in the search results in the paid area of the search engines. Keyword research is essential because you want your paid listing to be worth your money. Your paid listings and keywords research is a team. When using paid listings, you should know the relevant keywords for your small business. For example, you have an event organizing business. The searcher searched for "event organizers + your city." Let's say, for example, that is one of the most searched keywords for event organizing businesses. But you did not pay for it because you did not know the importance of keyword search. Instead, you pay for "convention planner + your city," which is not specific enough because searchers are particular when looking for event organizing services online. You will not have the traffic you expect because the keywords you paid for are not top searched. This point demonstrates the importance of knowing the right SEO for small businesses.
Listings That You Must Have For Better SEO For Your Small Business
You might ask why these listings are "must haves" for your small business. Simple. Because Google My Business and Bing are the top search engines for companies. Facebook and LinkedIn are the top most used platforms worldwide. They are free of charge and highly effective when used correctly ( optimized ).
Google My Business– You can control your small business' appearance on Google Search and Maps using the free tool Your Business Profile. You can connect with consumers, share updates, list your goods and services, take online orders, and more with your small business profile.
Bing Places for Business – With the help of the free Bing service Bing Places for Business, your business can take control of the accuracy of the information that customers see about your small business.
Creating a Facebook Business Page will help you engage with clients and provide essential details about your services and future events. Reaching new clients is simple and efficient with Facebook business pages and Messenger ads.
LinkedIn Companies – It is a terrific approach to expand your professional network as a small business owner. A professional can be helpful when it comes to offering your products and services.
Local SEO Strategies For Small Businesses
Have a GMB Listing – Provide your complete and correct business name, location on a map, business category, phone number, and website. When you have a listing, the next thing you should do is upload photos of your landscaping business—pictures of your previous creations, materials, etc. You could then enter your business hours. This action will help so much with your local SEO.
Compile Customer Reviews – The importance of review signals to your local search ranking. Therefore, in addition to strengthening your reputation, having many genuine reviews, excellent ones could do wonders to increase your visibility in local search. Consequently, it would help if you made an effort to gather more sincere client testimonials for your landscaping business.
Link Building – I discussed earlier in the previous chapter that inbound links build your website's authority. Collaborations, guest posts, and other opportunities could all be great ways to get high-quality backlinks from other websites and sources. As an illustration, when you see local clients' backlinks to small businesses' websites when posting results on social media. It is a perfect example of a relevant backlink. Acquire more of these quality inbound links, and your ranking will improve.
Search Engine Algorithm
A search engine's algorithm aims to swiftly and accurately respond to a user's search query. Make sure your website and listings have accurate and consistent information. So you will appear on the display of searches relevant to your small business.