Before anything else, let's see why it is essential to optimize your website. In addition to increasing website traffic, website optimization also aids in the conversion of visitors into leads and customers. Meaning when your website is well-optimized, there is a higher chance that your website visitors will turn into customers. You will see how to optimize your website and do it right.
Now the first thing we should consider is whether your website appears in searches, is your website optimized for searching? Will your website appear in searches when a potential customer goes to Google and types the relevant keywords to your business? A format such as "your city + landscaper," "your city + lawnmower," or "your city + garden maintenance."
Some factors determine the rankings to quickly and accurately show the most relevant and helpful results from hundreds of billions of websites. The first is the words in the search query. How related are the words the searchers used when looking for services online? Next are the sites' relevancy and usability; this means how relevant your site is to the search query.
For example, if the searcher is searching for a nail salon, your food business will not appear. Next is your website's authority which I will discuss later and guide you on how to build it. Another one is the searcher's location and settings, let's say the searcher is from California, and your business is from New York; you will not appear on top because customers want the closest service providers possible. These are just a few of the numerous aspects and signals search algorithms use to provide you with the most relevant information.
As I have shown factors determining the ranking, next, you will see what you need to do to optimize your website for search to appear on prominent search engines such as:
Optimizing Your Website For Search Engines
1. Pick The Right Keywords
Undeniably, doing a keyword search is very important to optimize your website; you will see why as you read more. As a business, you may be offering various services, and the question is, are you showing up for what you offer when people search on the internet? For example, if you are a Beauty Salon and offer mani-pedi services, does your website appear when searching for that services online?
Here are a few tools you may use to research keywords to find out what your clients are looking for when they use your services. Some are provided without charge, while others may have a monthly fee:
Using these tools to optimize your business, you may discover new keywords associated with your business website. Unquestionably, you will get an idea of the number of searches they receive and determine how much it will cost to target them.
For example, this table from Wordstream shows the most searched words for restaurant and food businesses and how often people search for them.
| | |
| --- | --- |
| Keywords | Search volume |
| Restaurants | 83,100,000 |
| Food near me | 30,400,000 |
| Restaurants near me | 30,400,000 |
| Olive Garden | 7,480,000 |
| Mexican restaurant | 6,120,000 |
| Fast food near me | 5,000,000 |
| Cheesecake factory cheesecake | 5,000,000 |
| Indian restaurant | 3,350,000 |
| Sushi near me | 2,740,000 |
| Fast food | 2,740,000 |
Now that you know the keywords, what you need to do is you should write content for the following keyword combination on your website to make the most of the internet from an SEO standpoint:
Your City + Restaurants
Your City + food near me
Your City + Restaurants near me
Your City + Olive Garden
Your City + Mexican restaurant
Your City + Fast food near me
Your City + Cheesecake factory cheesecake
Your City + Indian restaurant
Your City + Sushi near me
Your City + Fast food
Make your website optimized for searches and rank on significant search engines such as Google, Bing, Yahoo, etc. Because your website will only appear in searches if Google clearly understands what keywords and pages it would be showing up for in the search engines.
2. Create Landing Pages To Optimize Your Landscaper Website
As a business, you may offer various services or products. For example, you have a food business. You may offer products such as cakes, pasta, shakes, etc. That is to say, creating landing pages will allow you to get listed on search engines for each group of words for the specific services you offer.
In this area comes the making of the landing pages that should be a considerable part of your website to obtain better results. I showed a table of the most searched keywords for landscaping businesses above; now, you will see their relevance to your landing pages.
Each page on your website can only optimize each page on your website for 1-2 keyword combinations. Please ensure that every keyword optimized with every page aligns with it. Here is an example chart for you to understand more.
Let's say you offer these services in landscaping: garden pruning, lawn mowing, garden weeding, and plant fertilizing.
*Sebastian's illustration*
Your City + Best Chocolate Cake            –>                         Cake Products Page
Your City + Popular Milk Shake             –>                         Milk Shake Products Page
Your City + Famous Pasta                       –>                          Pasta Products Page
Your City + Your Business Name          –>                           Home Page
Your City + Your Business Category ( Cafe )   –>              Home Page
Another explanation is that the arrow means "when the visitors search these keywords, the arrows should direct them to this website page."
3. Optimize Page Titles To Optimize Your Website
Google determines the page's structure and content from the page title. This data has a significant effect on page rank. As can be seen, your page title helps search engines decide whether your website matches the search query. Therefore, it can respond to a user's search more fully.
Thus, paying attention to the primary heading of the sub-pages is crucial in ensuring better search results. Each sub-page's head section contains the HTML tag for the title. It means it offers a preliminary indication or context regarding the current subject matter of the page.
To optimize the title pages of your website, apply the following tips:
Add applicable keyword phrases – It's a good idea to incorporate your main keyword in your page names even though you don't want to fill them with keywords. Generally, if you can, position it near the top of the page to make it easier for readers and search engines to understand your website.
Write for the target market/ visitors – Your page title should provide the reader with value. Typically, this information will help improve their understanding of an issue or move them closer to a solution.
Try using long sentences, but not too long – Your page title should be catchy enough to draw the reader in while remaining concise enough to convey to both users and search engines the meaning and goal of the page.
Avoid repetition and keyword stuffing – Redundancy will not help you. Besides, no one wants that. You might think that stuffing keywords will do, but it will not. A great example of a wrong page title is " William's Tutoring Agency, Tutor math, Tutoring, Tutor English, Tutor Science."
Don't include the name of your business upfront – Utilize the fact that search engines give the terms that come first in a page title more importance. If it makes sense, Form your headings using your keyword phrases first and then your company name. Like " Change Oil, Overhaul, Car Battery Change, Replacing Water Blades| Car Crew Auto Repair." It is an example of an excellent page title. Look at how the keywords are all relevant, clear to what the specific page offers, and are not redundant.
Be as precise as you can with all the information – Consider the specifics of the page in front of you and try to describe it to improve your page names. For instance, if you have a makeup line, the title should have your keywords in the center of the page solely about "Matte Liquid Lipsticks." Avoid including broad terms like "Cosmetics."
4. Content and Keywords
Get specific with your keywords and which pages will target which phrases are part of the strategy for your service pages. For instance, an electronic business with the keywords "computer maintenance" would be targeted on your maintenance services page.
That said, it is crucial to remember that the Google algorithm considers keyword density. The keyword placement will be organic when you produce high-quality content. Be cautious because cramming your material with too many keywords may not benefit you and compromise your ranking.
You must give your website the main keyword and follow the keyword density guidelines afterward. Another critical point is to have more extended, pertinent content creation and utilize auxiliary keywords. Content and keyword search are essential to optimize your business website.
How To Build Up Authority To Optimize Your Website
Obtaining inbound links is the next stage after building the pages so you can rank on the page for your most crucial keywords. The creation of the pages is just the start. Having more high-quality inbound links and citations to optimize your landscaper website is one of the ways to rank it higher than your rivals because the more connections are coming in, the better!
You can't just employ useless links; you shouldn't have many of them because links refer to external websites that link back to your website. Many marketers have understood that links are essential, not just any links but relevant ones. Google has acknowledged that if those particular links aren't pertinent, neither the internet nor your website will benefit. Wrong links can lower your rating; therefore, everything should be good or nothing. Otherwise, it will hurt and may not help optimize your landscaper website.
For example, a customer posted a before and after photo. An image that shows what it looked like before your housekeeping business provided your services and the result afterward. And then they put a link in their caption, which directs straight to your website. That is an example of an inbound link that is relevant and useful. The more links like this, the more authority your website will have.
Here is an illustration for a better understanding of gaining links to optimize your website better:
*Sebastian's illustration*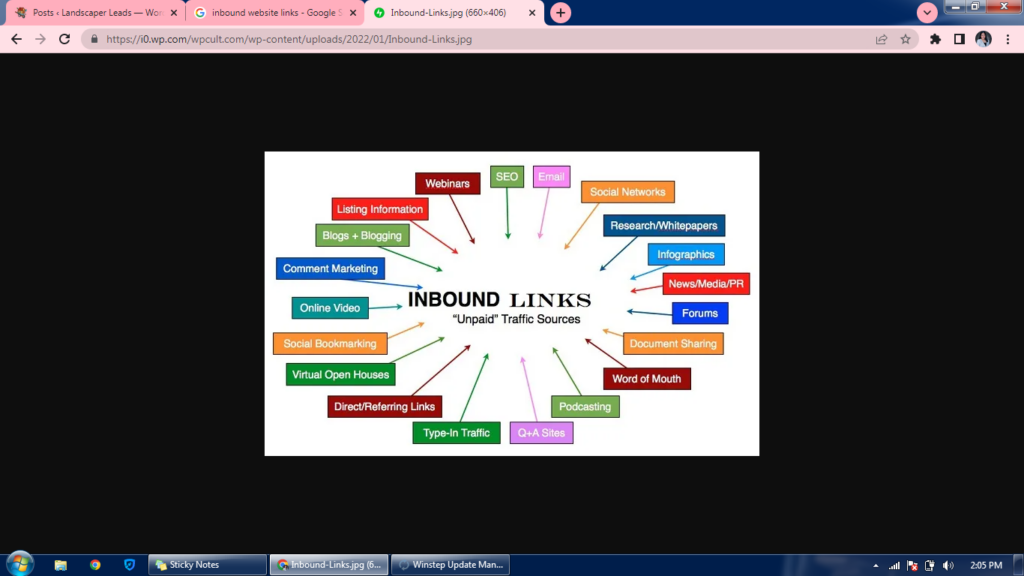 How and where can you get these links?
Association Links – Let's say you are involved in some association, whether the national industry association, the local chapter, or some other group affiliation. Visit the websites of those organizations, then get listed in the member section. Thus, it will give you citations and the opportunity to link to your website.
Directory Links – Some examples like Yelp or Google Maps; these online listings let you display your company name, address, phone number, and a link to your website. Some of them even allow reviews.
Create Interesting Content/Articles – One of the best ways to generate inbound links is to write intriguing content or articles. For instance, you could produce a report on a well-liked service you provide in your sector and distribute it to thousands of people via article directory websites, each of which can include a link to a specific page on your website. Overall, creating content help with collecting inbound links.
The more inbound links you have, the more chances you have to be on top of the rankings because it helps to optimize your website. Because quality links are the way to go, you do not want irrelevant and garbage links. It may result in poor order instead of helping your business rank up. Instead, you want quality and relevant links that are big in quantity.
Optimize Your Website For Conversion
Contact information and prominent call to action
Put your phone number and a "Call now" or "Book now" in the website's header graphic. And then, have the attitude that your business is always prepared to offer its services. It is a potent tool to have this energy on your page. Our brain works to decide after 5 seconds. If it exceeds that, the visitor will be a little skeptical and most likely not avail of your services. So, seeing the call to action tricks their brain and makes them decide immediately without hesitation. Finally, another customer gained.
Image Authenticity
It would be best if you focused more on this. For example, you should not use stock photos or images that display many tools and equipment you do not own. Never use pictures of products that your business didn't complete.
I understand that giving visitors what they want to see is a good thing. Only if the images you intend to use are accurate and owned by you; otherwise, it would be terrible. For instance, if you own a gym as your business, do not post a picture of equipment you do not have. If you do not have a treadmill, do not post it on your website.
Use only images that accurately represent your business's brand, and do not use any that you do not own.
Mobile Website
Primarily, people access the internet through phones; this only emphasizes how vital Mobile Optimization is. So it is imperative to consider your website's appearance on the phone. Does it look weird, or is it optimized as a mobile-ready website? A 3 sentence paragraph may look fine in terms of length on laptops, but on mobile, it will look too long. In reality, no one will want to read an immensely-looking paragraph. These previously mentioned should condense these elements, be screen-friendly, and provide them with the required knowledge. If you check out your website on your phone and it does not look appealing, then the problem is your website, not your mobile phone. And that's when you know you have to do something about it.
Now that your website is all set, off you go to optimizing your business website to be able to appear on prominent search engines.
As you can see, the greater your website's authenticity, the greater the chance it will generate calls from visitors.
Update Your Website Frequently
Updating the contents on your website contributes to the development of client trust. Customers probably look to your website for helpful information on any market you are in right now. Additionally, updated data improves your website's authority. The ability to educate and inform your website's visitors is arguably the most crucial reason to have entertaining and dependable material on your website. Without content, no one will understand your business's mission, values, or how they can take advantage of what you have to offer.
Updating your website ensures your website's security is up to standard.
Maintaining new and relevant material for readers and search engines, confirming that you adhere to current web design guidelines. Utilizing best practices for SEO to improve optimization and reparation of faulty extensions and other technological components.
Be Consistent
It may sound cliché, but in Online Marketing, consistency is a crucial thing. It's critical to be consistent in updating your websites and all your listings. Overall, including the details you enter about your business on your website for search engines and searchers, the contents of your website, the services you offer, their quality, and customer services.
Ensure your website doesn't fluctuate. It should never be consistent for one month, then becomes dormant for the next, or has consistent content before going silent for a few months. Sometimes responds quickly to consumers, but other times do so after business hours or, worse, do not respond. Inconsistency can ruin whatever you have established well on your website. After all, no one wants an inconsistent website.