Almost every action is often online; why not leverage that fact and use Online Marketing for your small business to flourish? Here are Online Marketing Strategies for small businesses to help them grow customers and increase profit. I will explain more in the succeeding chapters; for now, this is the overview of what they are. See how these strategies will help your small business.
Website (Online Marketing Strategy in building your small business' identity)
Typically, the objective of Online Marketing is to draw potential customers to your small business. As a part of your online marketing, you can use a website as one of the online marketing strategies. A website can help your landscaping business by letting potential customers know about you, improve sales by having an online presence, etc. I will further discuss later how websites can immensely benefit your small business. More website visitors equals more chances to present your value offer to potential clients.
Local SEO ( Online Marketing Strategy for your small business' visibility )
What is Local SEO (Search Engine Optimization)? It is the process of enhancing your landscaping businesses' local visibility on major search engines, especially if you have a physical location. Your small business can increase organic traffic from searches made by local customers by adhering to local SEO best practices.
PPC (Pay Per Click)
When your small business uses pay-per-click, you will pay a fee each time your ads open because a searcher clicks it. You only pay when a user clicks on your ad. In essence, it's a way to 'purchase' visitors for your website in addition to generating them naturally: more visitors, potential customers, and more profit.
Below is an illustration for you to better understand the concept of pay-per-lead.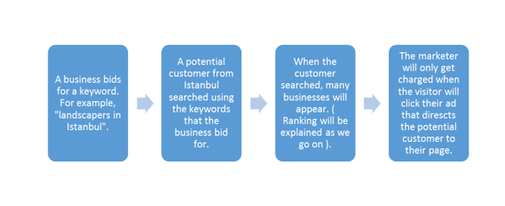 PPL (Pay Per Lead)
PPL is a network promotional strategy where your small business pays a partner ( a lead agency, which I will discuss later in chapter 9) based on how many leads they generate converting for the client. Of course, increased web traffic online, enhanced ranking and visibility, and, most importantly, increased sales are all goals for your landscaping business. It also aids in reaching your targeted customer groups more quickly.
Local service ads
With the use of local services ads, you may reach out to people who are looking for your services on Google. Customers in your neighborhood will see your adverts, and you only pay if a lead comes in from the ad. Your business hours matter a lot in Local service ads. Open businesses rank higher than those closed when the searchers look for services.
Do not be intimidated when you see the words "pay" or "paid plans"; I will clarify later and explain how it works in the following chapters.